Calmer Waters – Clearview Commentary 
Over the summer, I had the pleasure of taking a rafting trip with my daughter. For a week, she and I enjoyed navigating – with seasoned guides – the middle fork of the Salmon River in oar boats, paddle boats and inflatables, otherwise known as duckies. I gladly and enthusiastically held my own in the paddle boats, jumping at every prompt bellowed by our youthful guides. But, having absolutely no experience with kayaking, I stayed away from the duckies. These inflatables seemed to go wherever the current pushed, which in a few cases, was much too close to unyielding boulders and water determined to toss you out.
At an altitude of 6,300 feet, our journey began at Boundary Creek Campground, deep in the heart of the Frank Church – River of No Return Wilderness Area. The start was a beehive of activity. Colorful rafts from a multitude of outfitters, sliding rafts and gear to the river's edge using a steep wooden ramp. Guides and rafters, hustling and bustling to load and secure gear, find their travel companions and await instructions to embark on the journey. With optimism high, each group pushed away from shore in assigned sequence. The water, calm and flowing smoothly, filling us with confidence for the week ahead.
As we floated downstream, the easy, smooth flow of the river turned to what my daughter, the experienced kayaker, explained was giggle water. Shallow, swiftly moving water over small, smooth rocks resulting in bubbly rapids that even a novice like me could navigate in a duckie. Soon thereafter, the tone and demeanor of our guides turned serious as they prepared us for what would be the first of several Class III and IV rapids we would encounter during the week. The Chutes, Powerhouse and Artillery bounced our paddle boats around with exhilarating force. Without much in the way of notice or training, our guides shouted paddle calls as they positioned the boat for an effective path through. We did our best to comply, while hanging on (feet wedged between seats and boat bottom) to avoid being bounced out like we were on a trampoline. Inevitably, boats and paddlers were cast out to a calm pool that would often follow the narrow and short-lived corridors of turbulence.
And so it went for the rest of our trip. Starting at Boundary Creek and ending at Cache Bar, Idaho. A 3,300-foot elevation drop of giggle water, guides offering guidance through turbulent rapids and then being expelled to calm pools requiring little to no effort to progress down river. At the end, my daughter and I agreed it had been a wonderful, exhilarating ride. Soon thereafter over dinner in Salmon, Idaho we were planning our next adventure.
---
It's sometimes a struggle to find a personal experience that translates to current events. My week on the river and the water we encountered seemed a good analogy to past, current and if history is a guide, what we might expect in the future. Performance in 2019 and early 2020 leading up to the pandemic seemed relatively effortless. Achieving positive returns was like paddling giggle water or the calm pools following turbulent rapids. During the early months of the pandemic and now, the markets were and have been like navigating a class III, IV or V rapid. Turbulent with volatile swings up and down with investors doing their best to stay the course as instructed by their advisors. Everyone seeking the end, where the waters are smooth and progress more predictable.
We recognize portfolios have suffered during 2022. With the exception of cash and commodities, every asset class including bonds have suffered losses year-to-date. In short, there has been no place to hide from the declines. As always, we have encouraged and continue to advocate that everyone remain invested and stay the course with their respective allocation strategy. As illustrated in the J.P. Morgan diagram below, the asset allocation (diversified) portfolio shown in white is down but doing better than all other asset classes except cash, commodities and fixed income (bonds). As we review portfolio performance for the 3rd quarter and the year, we are seeing similar results.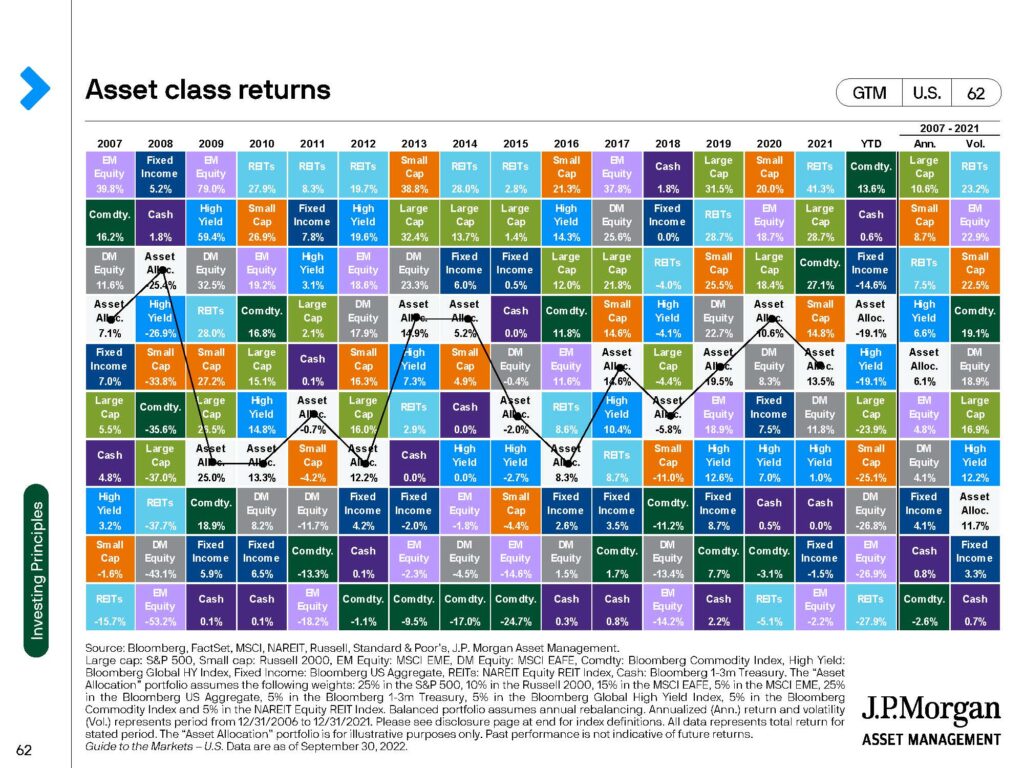 Investors should brace for continued volatility and the possibility of further market declines as the Federal Reserve (Fed) tries to rein in inflation by increasing interest rates. Like most market analysts, we expect additional rate hikes before year end similar to the increases seen this summer. The Fed has signaled they will remain diligent with increases until inflation begins to subside. Only time and the benefit of analyzing the resulting data will provide insight on when the Fed may ease their current posture. This change, however long it takes, may then bring calm and an upward turn in the markets. Until then, we encourage everyone to stay the course with your allocation strategy and remain invested.
Throughout 2022's turbulence, we have carefully evaluated current holdings, looking behind the returns to understand if a particular investment performed in the manner expected in both declining and appreciating markets. We have also looked for additional opportunities highlighted by depressed valuations and sectors that might be more attractive. Buying additional shares of investments we're committed to holding long term and clean energy are two examples. The latter becoming more in focus with the Russia/Ukraine conflict accelerating the need for alternatives to oil/natural gas to meet global energy needs. As 2022 comes to a close, we will be engaged in our usual year-end portfolio activities such as reviewing for gains (yes, portfolios still have them) and losses. We will seek opportunities to harvest losses knowing they can be used in future tax years to offset gains and reduce the subsequent tax liability.
Please contact us if you would like to discuss your investment performance, your allocation or any of your investments. We welcome the discussion and the opportunity it provides to better understand your concerns.